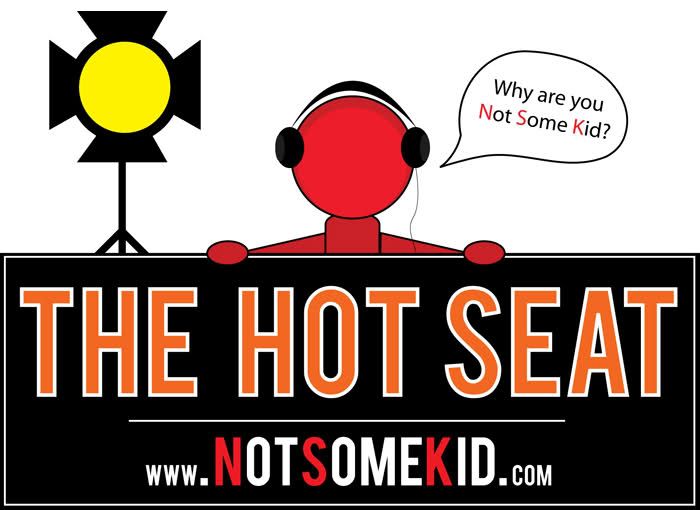 We get English Dubstep sensation Draper in the Not Some Kid hot seat, and try and get inside the mind of a man who is helping to pioneer a new genre…
Not Some Kid: Welcome to the Not Some Kid hotseat Draper. So quickly, explain, why Draper?
Draper: (Laughs)… It's simply my name! When I was choosing a pseudonym I couldn't settle on anything, but my name, easy!
Not Some Kid: Really? No way is your name Draper, I have never heard of that before.
Draper: I wish I was Don Draper's son
(Many more questions to come! Hit "read more" for the full interview)
Not Some Kid: That would be pretty sick! So having finished university with amazing results, what are you doing right now?
Draper: I am currently working on 'Draper', however I have side projects going but I'm living at home for the next couple of months.
Not Some Kid: That's pretty cool, I'm sure your fans are happy you're taking time to focus on the Draper side of things. I am!
Draper: (Laughs)…I guess so
Not Some Kid: So, your first rise to fame came from your remix of 'Waiting on a Noob.' How did it feel to suddenly be propelled into the limelight? I know that you had been winning competitions on Indaba music, but this really was your first break
Draper: It was quite an odd but cool break, it was just a bit of fun, I made the track after watching some of Chris Smoove's videos. I wasn't really propelled into the limelight as being a producer of the track the focus is really on Chris Smoove, but nevertheless it was definitely a useful boost! However when my first EP came out I really did start from the beginning again in terms of my audience because it was such a different sound!
Not Some Kid: And let's talk about your sound. Liquid Dubstep is how it's been classified, and in my opinion, the two leading pioneers of this genre are you and Adventure Club Dubstep. What attracts you so much to this genre?
Draper: That's kind of you to say! I just love to make that kind of music, I love the euphoric feeling that it produces and it's a genre that is just awesome to work on with melodies.
Not Some Kid: It's not just me saying it! Did you see Adventure Club's Leighton James rocking one of your shirts at a gig he was playing? That's just…well, amazing! So this love for melodies, and the euphoria they create, does this come from a musical background? Are your parents both budding musicians?
Draper: I did, I actually sent him that! I know them through Drop Dead; they're also part of the DD family. I have no real musical background, when I was younger I listened to music but it was more the curiosity of how electronic songs were made that pushed me to learn how it was done. I have natural rhythm which I put into learning drums which definitely helps, but other than that I self taught guitar and piano so the majority of my music is made by ear, I think how i want it to sound and then make it sound that way! Nothing hugely scientific about the process
MUSIC BREAK:
Bluebell – Normal Heights (Draper Remix)
Not Some Kid: You lucky guy, I cannot even imagine the amount of upcoming producers who would love to be able to make music by ear!
Now let's talk about the Drop Dead family; you caught the attention of Oliver Sykes, one half of the famous band 'Bring Me the Horizon' who really loved what he saw. That must have felt amazing, that someone like Sykes had been listening and loving the stuff you had been producing! What sort of things to you do as part of the DD family?
Draper: Yea its awesome having Oli's and Drop Dead's support, it's the affiliation between the artist and the brand and just the support between the two. There's nothing that I 'do' per say!
Not Some Kid: Well you completely deserve their support; you are really defining a genre of your own these days. Now, let's talk about performing live! Do you get 'Pre-Game' nerves, and if so, how do you combat them? I mean, you have performed in front of a stadium of 100,000! And that was only your 6th time live!
Draper: Oh definitely, I get really nervous in the 15 minutes before I go on but during and afterwards is just the best feeling! I just go crazy on stage and let loose and give it all i have!
Not Some Kid: Any trademark moves or signature gestures you do? Do you prefer the head bang or the fist pump?
Draper: (Rueful laugh)…I do a lot of jumping! My manager calls it my 'Mario Jump'! I don't really fist pump much, a lot of head banging though!
Not Some Kid: Yea I'm with you there, head banging is the way forward! The Mario Jump! That's incredible! What's your craziest experience whilst playing live? Also, can we look forward to any collaborations this year?
Draper: It doesn't get much crazier than doing the Mario Jump in front of 100,000 people! Collaborations are in the works right now! All will be revealed in the New Year most likely. New EP, new singles etc!
Not Some Kid: So, any clues you can drop us? *Cheeky wink* Go on, you know you want to!
Draper: (Laughs slyly)…I can't right now because most are just in talks!
-
Not Some Kid: (Turns on full charm to discuss a remix we would love to see Draper do, and he agrees. He starts work on this 'silky' (that's the only clue you're getting!) remix the day after this interview)
-
Draper: …will start (the remix) tomorrow! Ha!
Not Some Kid: Excellent, I look forward to this immensely!
Draper: Me too!
Not Some Kid: Can you give 3 pieces of advice to any upcoming producer?
Draper: (After a few minutes of thought)…
Firstly, keep writing. Some days you won't feel creative, some you will. As soon as you get any boost in creativity, open up your DAW and just write till you realise you've been writing for 5 hours solidly and it's night time!
Secondly, share it. Blogs, Youtube, Twitter, Facebook, there are so many mediums for getting heard and sharing your music and it's so easy to do! Feedback is crucial as it can fuel your passion!
Lastly, don't rush. You can tell when productions are rushed. If you have the time to work on your music do so, I usually spend a week or two, after I've finished a track, fine tuning it, making tiny tweaks that only I can hear but that's how I know that I've finished a track; when there's nothing that I can hear that needs changing!
Not Some Kid: Agreed. You are an example of hard work reaping its rewards, and there are many young producers who aspire to be able to produce at your level. So thank you for that advice Draper.
Last thing. If you could collaborate with one artist or group this upcoming year, who would you choose?
Draper: (Immediately)…Sigur Ros.
Not Some Kid: Wow, really unexpected choice! That rounds up the interview, so I guess we just have to say thank you, for taking time out your day to talk to us here at Not Some Kid.
Lastly, why are you Not Some Kid?
Draper: That's awesome, thanks! And I'm Draper, more than just some kid.
ShareThis
Tags: "Indie Dubstep" · 2013 · Draper · Dubstep · Interview · PlexxNo Comments